Side effects of Metoprolol
Side effects of Metoprolol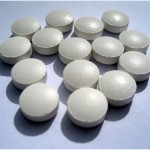 Metoprolol is a type of beta-blocker that affects the heart and the circulation and blood flow through the veins and arteries. It is used to treat things such as high blood pressure- also known as hypertension, angina a symptom of which is chest pain and may also be used for other conditions too.
The side effects of Metoprolol may depend on the dosage, the administration and of course the way that your body reacts to the medication.
These side effects apply to Metoprolol: oral, oral tablet extended release, intravenous medication:
If you have any of these signs of an allergic reaction whilst taking metoprolol, get emergency medical help: Hives, Swelling of your face/lips/tongue/throat or difficulty breathing.
The things to watch for when taking the medication are:
Difficulty breathing
Shortness of breath
Very slow heartbeats
Pain and Tightening in the chest
Light-headed feeling, like you might pass out
Dizziness
Pain the stomach, Nauseating feeling, Skin gets bruised easily, Darkening of urine
Water retention (swelling of arms and legs, feet and hands)
Cold feeling in your hands and feet.
Nervousness, Disorientation, Depression, Sleep Disturbance
Less sex drive
Impotence (Erectile dysfunction)
Call your doctor or your health care provider immediately if you have been affected by any of the above side effects whilst taking Metoprolol.
Common side effects may include:
Tired feeling, dizziness
Memory problems and confusion
Trouble sleeping with nightmares
Diarrhea
Mild rash/itching
You should still contact your doctor if the common side effects above are affecting you.
Call your doctor if you think you are experiencing other side effects because this is not a complete list of all the metropolol side effects – others may occur.
There are specific guidelines that have been given by the FDA when taking Metoprolol. These are guidelines that help minimise the side effects and help improve the care of the patient taking Metoprolol.
Some of the guidelines are:
Take the dose as prescribed by the doctor or your health care provider
Take the dose after your meal or with food- to avoid nausea or stomach pain
To increase the effect of your doesage, take your dose at a precise time frame
If you miss a dose, take it right away and carry on with your dose intake schedule
If you miss a dose and the time to take your next dose arrives, just skip the missing dose
Some side effects that may occur when taking metoprolol might not be reported, so ALWAYS consult your doctor/healthcare provider if you are wanting more medical advice. (You can also report some side effects that are not listed directly to the FDA.)